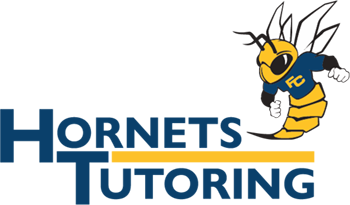 HORNETS TUTORING
The new Hornets Tutoring program was designed based on the best qualities of current embedded tutoring programs: Supplemental Instruction (SI) and the Entering Scholars Program (ESP). The leadership teams of these two programs have been working together for the last year to launch Hornets Tutoring in fall 2019.  SI and ESP will be replaced by Hornets Tutoring, and faculty can expect enhanced service that retains the qualities that they like best about their involvement in those programs. Hornets Tutoring will continue to work with faculty to hire and train high quality embedded tutors to support student learning both inside and outside the classroom. 
FACULTY:
Would you like an embedded tutor for your class? Click the button below to request a tutor!
WOULD YOU LIKE TO BE AN EMBEDDED TUTOR?
Click the button below to fill out an application!
DEADLINE: APRIL 4TH, 2019
Accounting
| | | | |
| --- | --- | --- | --- |
| CRN | Class | Instructor | Class Time |
| 12732 | ACCT 101AF | Tran, Brandon | MW 4:00P – 6:30P |
| 12015 | ACCT 101AF | Guest, Michael | TR 7:00 – 9:30P |
| 12018 | ACCT 101BF | Tran, Brandon | MW 12:20P – 2:50P |
| 12924 | ACCT 101BF | Tran, Brandon | TR 7:00A – 9:30A |
Anthropology
| | | | |
| --- | --- | --- | --- |
| 12759 | ANTH 101 F | Markley, Karen | TR 11:45A – 1:10P |
Automotive
| | | | |
| --- | --- | --- | --- |
| 11473 | AUTO 060 F | Miranda, Jose | TR 8:00A – 10:00A (LEC); TR 10:10A – 12:15P (LAB) |
Biology
| | | | |
| --- | --- | --- | --- |
| 12788 | BIO 101 F | Collins, Ken | MW: 7:55 – 10:00A; LAB W:10:50 – 2:00P |
| 10670 | BIO 101 F | Collins, Ken | MW: 7:55 – 10:00A; LAB M: 10:50 – 2:00P |
| 10689 | BIO 101 F | Collins, Ken | MW: 7:55 – 10:00A; LAB F: 8:00 – 11:10P |
| 10692 | BIO 101 F | Collins, Ken | MW: 7:55 – 10:00A; LAB F: 11:20 – 2:30P |
| 10801 | BIOL 170 F | Allen, Maala | TR 9:00A – 11:05A (LEC); TR 11:15A – 12:40P (LAB) Attending |
| 10804 | BIOL 170 F | Allen, Maala | TR 1:50P – 3:55P (LEC); F 10:00A – 1:10P (LAB) – Attending |
Chemistry
| | | | |
| --- | --- | --- | --- |
| 10813 | CHEM 100 F | Shahin, Mohammed | TR 8:35A – 10:00A (LEC); TR 10:10A – 11:35A (LAB) |
| 10817 | CHEM 101 F | Nobles, Stephanie | TR 10:20A – 11:30A (LEC); F 9:00A – 10:25A (PS); F 10:35A – 11:30A (PS); TR 8:00A – 9:20A (LAB) |
| 10826 | CHEM 107 F | Fernandez, Christopher | TR 7:15A – 9:20A (LEC); R 9:35A – 10:30A (PS); T 9:40 – 12:50P (LAB) |
| 11831 | CHEM 107 F | Rauda, Iris | TR 2:15P – 4:20P (LEC); T 4:30P – 5:25P (PS); R 5:05P – 8:15P (LAB) |
| 12764 | CHEM 107 F | Bianchino, Annie | MW 10:30A – 12:35P (LEC); F 8:25A – 9:20A (PS); F 9:30A – 12:40P (LAB) |
| 10820 | CHEM 107 F | Brady, Jim/ Dadson, Guy | MWF 7:30A – 8:45A (LEC); W 9:30A – 10:25A (PS); F 9:30A – 12:40P (LAB) |
| 10852 | CHEM 111AF | Fernandez, Christopher | TR 1:35P – 3:00P (LEC); TR 3:30P – 6:40P (LAB) |
| 10850 | CHEM 111AF | Salzameda, Bridget | TR 8:35A – 10:00A (LEC); TR 10:30A – 1:40P (LAB) |
| 11849 | CHEM 111BF | Dadson, Guy | TR 8:20A – 11:30A (LEC); TR 12:00P – 1:25P (LAB) |
| 10855 | CHEM 111BF | Lazarus, Laura | MW 10:10A – 11:35A (LEC); MW 1:00P – 4:10P (LAB) |
| 12544 | CHEM 111BF | Lazarus, Laura | MW 5:25P – 6:50P (LEC); MW 7:00P – 10:10P (LAB) |
| 11848 | CHEM 201 F | Chan, Theodore | MW 5:45P – 6:55P (LEC); T 5:45P – 7:10P (PS); T 7:20P – 8:25P (PS); MW 7:10P – 8:30P (LAB) |
| 13497 | CHEM 211B | Stanton, Gretchen | TR 8:25 – 9:50A, 416A LAB 10:00- 1:10 P |
Chinese
| | | | |
| --- | --- | --- | --- |
| 10956 | CHIN 101 F | Chang, Chui-Chin | TR 10:40A – 1:10P |
English 101
| | | | |
| --- | --- | --- | --- |
| 14079 | ENGL 101 F | Vandervort, Kim | MW 7:00A – 9:30A |
| 14088 | ENGL 101 F | Levesque, Richard | TR 9:40A – 12:10P |
| 14102 | ENGL 101 F | Berry, Melissa | F 8:00A – 1:20P |
| 14105 | ENGL 101 F | Kominek, Bridget | MW 7:00P – 9:30P |
| 14081 | ENGL 101 F | Orr, Alyesse | MW 7:00A – 9:30A |
| 14087 | ENGL 101 F | Schulze, Michael | MW 9:40A – 12:10P |
| 14098 | ENGL 101 F | Sabau, Bianca | MW 4:00P – 6:30P |
| 14100 | ENGL 101 F | Kominek, Bridget | MW 4:00P – 6:30P |
| 14104 | ENGL 101 F | Sabau, Bianca | MW 7:00P – 9:30P |
| 14097 | ENGL 101 F | Okonyan, Stefani | TR 12:20P – 2:50P |
| 14096 | ENGL 101 F | Dunsmore, Pamela | TR 12:20P – 2:50P |
| 14089 | ENGL 101 F | Costello, Jeanne | TR 9:40A – 12:10P |
| 14155 | ENGL 101 F | Rosen, Ellen | TR 10:40A – 1:10P |
| 14101 | ENGL 101 F | Hernandez, Adrianna | F 8:00A – 1:20P |
| 14090 | ENGL 101 F | Okonyan, Stefani | TR 9:40A – 12:10P |
| 14092 | ENGL 101 F | Dunsmore, Pamela | MW 12:20P – 2:50P |
| 14158 | ENGL 101 F | Fearn, Cythia | TR 7:00P – 9:30P |
| 14083 | ENGL 101 F | Anderson, Janna | TR 7:00A – 9:30A |
| 14095 | ENGL 101 F | King, Katie | TR 12:20P – 2:50P |
| 14094 | ENGL 101 F | Sanchez, Adriana | MW 12:20P – 2:50P |
| 14107 | ENGL 101 F | Richards, Heather | TR 7:00P – 9:30P |
| 14084 | ENGL 101 F | Whitehall, Brianna | TR 7:00A – 9:30A |
| 14086 | ENGL 101 F | Scarpa, Daniel | MW 9:40A – 12:10P |
| 14082 | ENGL 101 F | Vandervort, Kim | TR 7:00A – 9:30A |
| 14085 | ENGL 101 F | Guardado, Cynthia | MW 9:40A – 12:10P |
| 14091 | ENGL 101 F | Guardado, Cynthia | MW 12:20P – 2:50P |
| 14080 | ENGL 101 F | O'Rourke, Meg | MW 7:00A – 9:30A |
English 100 F
| | | | |
| --- | --- | --- | --- |
| 11088 | ENG 100 F | Gomez, Bruce | TR 5:30 -7:30P |
| 13999 | ENG 100 F | Mayfield, Philip | MW 10:30 – 12:35P |
| 11658 | ENGL 100 F | Lamb, Heidi | TR 2:00P – 4:05P |
| 14006 | ENGL 100 F | Shiroma, Ryan | MW 12:45P – 2:50P |
| 10681 | ENGL 100 F | Anderson, Janna | MW 9:30A – 11:35A |
| 14002 | ENGL 100 F | Dobyns, Sheilah | TR 10:30A – 12:35P |
| 10662 | ENGL 100 F | Okonyan, Stefani | MW 7:15A – 9:20A |
| 13993 | ENGL 100 F | Dobyns, Sheilah | TR 8:15A – 10:20A |
| 13931 | ENGL 100 F | Sanchez, Adriana | TR 11:45A – 1:50P |
| 14003 | ENGL 100 F | Ruiz, Rosalinda | TR 10:30A – 12:35P |
| 10707 | ENGL 100 F | Sanchez, Adriana | TR 9:30A – 11:35A |
| 14007 | ENGL 100 F | Shiroma, Ryan | TR 10:30-12:35 |
| 10983 | ENGL 100 F | Krag, Samantha | MW 2:00P – 4:05P |
| 11684 | ENGL 100 F | Guss, Heidi | TR 11:45A – 1:50P |
| 13972 | ENGL 100 F | O'Rourke, Meg | TR 9:30A – 11:35A |
| 10685 | ENGL 100 F | Snyder, Katie | MW 7:15A – 9:20A |
| 12577 | ENGL 100 F | Krag, Samantha | TR 7:15A – 9:20A |
| 14159 | ENGL 100 F | Weil, Alex | F 12:30P – 4:45P |
| 13923 | ENGL 100 F | Smith, Geoff | TR 11:45A – 1:50P |
| 11679 | ENGL 100 F | England, Elli | TR 7:00P – 9:05P |
| 10705 | ENGL 100 F | Krag, Samantha | MW 11:45A – 1:50P |
| 11074 | ENGL 100 F | Powers, Miguel | TR 11:45A – 1:50P |
| 14011 | ENGL 100 F | Ruiz, Rosalinda | TR 12:45P – 2:50P |
| 12554 | ENGL 100 F | Guss, Heidi | TR 9:30A – 11:35A |
| 10694 | ENGL 100 F | Schulze, Michael | MW 7:15A – 9:20A |
| 13994 | ENGL 100 F | Smith, Geoff | TR 8:15A – 10:20A |
| 13971 | ENGL 100 F | Trujillo, Tamara | MW 9:30A – 11:35A |
| 10967 | ENGL 100 F | Perez, Roger | MW 7:15A – 9:20A |
| 10939 | ENGL 100 F | Trujillo, Tamara | MW 11:45A – 1:50P |
| 10671 | ENGL 100 F | Guss, Heidi | MW 11:45A – 1:50P |
| 14009 | ENGL 100 F | Shiroma, Ryan | TR 12:45P – 2:50P |
| 11110 | ENGL 100 F | England, Elli | W 5:30P – 9:45P |
| 14160 | ENGL 100 F | Paige, Deborah | MW 2:00P – 4:05P |
| 10633 | ENGL 100 F | Smith, Geoff | MW 11:45A – 1:50P |
| 13997 | ENGL 100 F | O'Rourke, Meg | MW 10:30A – 12:35P |
Earth Science
| | | | |
| --- | --- | --- | --- |
| 11926 | ESC 100 F | Lozinsky, Richard | F 8:00A – 11:10A |
| 11027 | ESC 100 F | Lozinsky, Richard | TR 7:00A -8:25A |
| 11026 | ESC 100 F | Lozinsky, Richard | TR 10:10A – 11:35A |
| 11863 | ESC 101 F | Willis, Marc | MW 8:35A – 10:00A |
| 11864 | ESC 101 F | Willis, Marc | Online |
| 11029 | ESC 101 F | Willis, Marc | MW 7:00A – 8:25A |
English as a Second Language
| | | | |
| --- | --- | --- | --- |
| 12262 | ESL 076 F | Gaitatjis, Elizabeth | TR 8:00A -10:30A |
| 12263 | ESL 078 F | Tiangco, Jefferson | MW 8:00A – 10:30A |
| 11032 | ESL 083 F | Whiting, Lindsay | MW 8:00A – 10:30A |
| 11034 | ESL 083 F | Whiting, Lindsay | TR 10:40A – 1:10P |
| 11078 | ESL 184 F | Gaitatjis, Elizabeth | MW 8:00A – 10:30A |
| 11080 | ESL 184 F | Gaitatjis, Elizabeth | TR 10:40A – 1:10P |
| 11035 | ESL 185 F | Hui, Arthur | MW 10:40A – 1:10P |
| 11036 | ESL 186 F | Whiting, Lindsay | MW 10:40A – 1:10P |
| 11077 | ESL 186 F | Tiangco, Jefferson | TR 8:00A – 10:30A |
French
| | | | |
| --- | --- | --- | --- |
| 10988 | FREN 102 F | Reinhardt, Catherine | TR 9:40A – 12:10P |
| 10730 | FREN 203 F | Reinhardt, Catherine | MW 4:30P – 6:35P |
German
| | | | |
| --- | --- | --- | --- |
| 10958 | GERM 102 F | Hornell, Klaus | MW 1:20P – 3:50P |
| 10959 | GERM 203 | Horenll, Klaus | TR 5:30P – 7:35P |
History
| | | | |
| --- | --- | --- | --- |
| 23087 | HIST 171 F | Gunther, Vanessa | TR 7:00 -8:25A |
Japanese
| | | | |
| --- | --- | --- | --- |
| 11015 | JAPN 102 F | Parks, Yumi | TR 7:00P – 9:30P |
| 11007 | JAPN 102 F | Takayama, Mariko | MW 10:40A – 1:10P |
Math
| | | | |
| --- | --- | --- | --- |
| 11318 | MATH 040 F | Zarske, Cindy | T 9:30A – 11:35A |
| 10652 | MATH 100 F | Zarske, Cindy | MW 10:00A – 11:25A |
| 10763 | MATH 100 F | Zarske, Cindy | F 10:35A – 12:00P |
| 14166 | MATH 100 F | Kassman, Steven | TR 2:20P – 3:45P |
| 10761 | MATH 100 F | Zarske, Cindy | F 9:00A – 10:25A |
| 11715 | MATH 100 F | Larsen, Chris | MW 7:30A – 8:55A |
| 14168 | MATH 100 F | Carrillo, Mackenzie | MW 3:30P – 4:55P |
| 14169 | MATH 100 F | Kassman, Steven | TR 4:30P – 5:55P |
| 14264 | MATH 120 F | Pham, Kara | MW 9:30 – 11:35A |
| 11716 | MATH 120 F | Cobler, Timothy | MW 9:30A – 11:35A |
| 12359 | MATH 120 F | Vo, Dao | TR 4:30P – 6:35P |
| 13909 | MATH 120 F | Vo, Dao | MW 2:00P – 4:05P |
| 13271 | MATH 120 F | Malloy, Scott | MW 10:30A – 12:35P |
| 14172 | MATH 120 F | Malloy, Scott | MW 8:15A – 10:20A |
| 12755 | MATH 129 F | Shah, Ketan (Kenny) | TR 5:30P – 7:35P |
| 12619 | MATH 129 F | Rossi, Nicole | MW 12:45P – 2:50P |
| 10774 | MATH 130 F | Jagodina, Marianna | TR 10:30A – 12:35P |
| 14707 | MATH 130 F | Strey, Martha | MW 9:30 -11:35 |
| 13530 | MATH 141 F | Loney, Laura | MW 10:30A – 1:00P |
| 12081 | MATH 141 F | Cobler, Timothy | MW 12:45P – 3:15P |
| 13276 | MATH 142 F | Larsen, Chris | TR 9:30A – 11:35A |
| 11331 | MATH 142 F | Larsen, Chris | TR 7:15A – 9:20A |
| 12943 | MATH 151 F | Vo, Dao | MW 5:30P – 7:35P |
| 12936 | MATH 151 F | Jagodina, Marianna | MW 10:30A – 12:35P |
| 12933 | MATH 151 F | Rossi, Nicole | TR 8:15A – 10:20A |
| 12935 | MATH 151 F | Jagodina, Marianna | MW 3:15P – 5:20P |
| 12940 | MATH 151 F | Sayyadi, Leila | TR 2:00P – 4:05P |
| 13467 | MATH 151 F | Sayyadi, Leila | TR 4:30P – 6:35P |
| 12932 | MATH 151 F | Diaz, Roberto | MW 8:15A – 10:20A |
| 12939 | MATH 151 F | Klassen, Kelly | TR 11:45A – 1:50P |
| 12952 | MATH 152 F | Nguyen, Gregory | MW 4:30P – 6:35P Attend: Late class Mon – Wed Afternoon |
| 12951 | MATH 152 F | Nguyen, Gregory | MW 2:00P – 4:05P |
| 12949 | MATH 152 F | Petrie, Caleb | MW 11:45A – 1:50P |
| 12948 | MATH 152 F | Klassen, Kelly | TR 9:30A – 11:35A |
| 14149 | MATH 31F | Loney, Laura | W 2:10P – 3:15P |
Nutrition
| | | | |
| --- | --- | --- | --- |
| 10978 | NUTR 210 F | Loy, Michelle | TR 2:55P – 4:20P |
| 11509 | NUTR 210 F | Kvaska, Colleen | MW 1:20P – 2:45P |
| 10975 | NUTR 210 F | Kvaska, Colleen | MW 2:55P – 4:20P |
| 12423 | NUTR 210 F | Kvaska, Colleen | MW 10:10A – 11:35A |
| 12756 | NUTR 210 F | Richardson, Kristy | TR 8:35A – 10:00A |
| 10966 | NUTR 210 F | Richardson, Kristy | TR 1:20P – 2:45P |
| 10974 | NUTR 210 F | Richardson, Kristy | TR 10:10A – 11:35A |
Physical Education
| | | | |
| --- | --- | --- | --- |
| 12057 | PHYS 221 F | Widmann, Peter | T 9:35A – 12:45P (LEC); R 9:35A – 12:35P (LAB) |
| 12647 | PHYS 221 F | Widmann, Peter | M 1:30P – 4:40P (LEC); W 1:30P – 4:40P (LAB) |
Psychology
| | | | |
| --- | --- | --- | --- |
| 12760 | PSY 101 F | Lopez, Brian | MW 1:20 – 2:45p |
| 10904 | PSY 101 F | Wolfe, Jeana | F 9:00 – 12:10P |
| 14336 | PSY 101 F | McGuthry, Katheryn | TR 10:10A – 11:35A |
| 10915 | PSY 161 F | Guild, Tracy | TR 7:55A – 10:00A |
| 11747 | PSY 221 F | McGuthry, Katheryn | TR 8:35A – 10:00A |
Reading
| | | | |
| --- | --- | --- | --- |
| 13378 | READ 127 F | Hughes, Diedre | MW 12:45P – 2:00P |
| 14375 | READ 127 F | Hughes, Diedre | TR 11:45A – 1:10P |
| 13324 | READ 142 F | Bogan, Mary | MW 2:00P – 4:05P |
| 13321 | READ 142 F | Bogan, Mary | TR 12:45P – 2:50P |
Sociology
| | | | |
| --- | --- | --- | --- |
| 10932 | SOC 101 F | Abdel Haq, Mohammad | MW 11:45A – 1:10P |
| 10933 | SOC 101 F | Andrus, Angie | TR 11:45A – 1:10P |
| 10936 | SOC 101 F | Petersen, Victoria | MW 7:00A – 8:25A |