Math Institute for Learning Enhancement Success
Spring 2019
FC MILES is an 11-week math program designed to help students further develop their math skills by providing a non-traditional classroom.  We are seeking individuals who are looking to strengthen their math skills before taking a math course.
This is a non-credit experience intended to provide you extra support in accomplishing higher level math skills.
Please click below to fill out an interest form. Once you complete the form, you will receive more information from one of the FC MILES staff. If you have any questions, please feel free to email fcmiles@fullcoll.edu.
FC MILES Spring 2019 Hours
February 12 – April 26
Tuesday
2:00 pm – 5:00 pm
Skills Center – Room 801
Wednesday
12:00 pm – 3:00 pm
Skills Center – Room 801
Friday
9:00 am – 12:00 pm
Skills Center – Room 801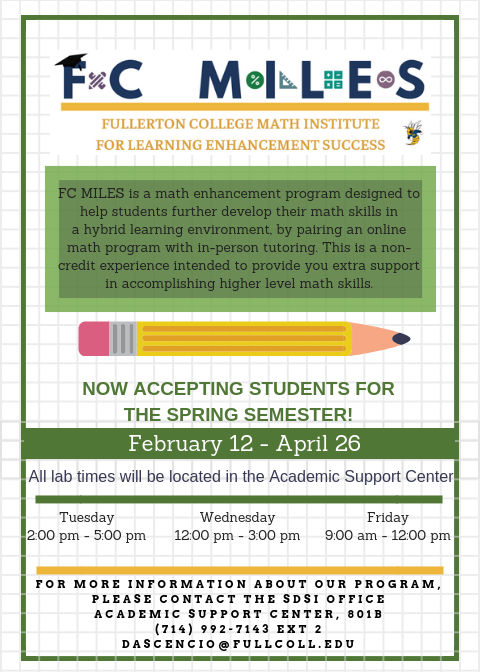 For more information about this program, please contact the FC MILES office:
Fullerton College Math Institute for Learning Enhancement Success (FC MILES)
Fullerton College
321 E Chapman Ave., Room 801B
Fullerton, CA 92832
(714) 992-7143 EXT 2
fcmiles@fullcoll.edu