Math Institute for Learning Enhancement Success
Fall 2018
FC MILES is an 11-week math program designed to help students further develop their math skills by providing a non-traditional classroom.  We are seeking individuals who are looking to strengthen their math skills before taking a math course.
This is a non-credit experience intended to provide you extra support in accomplishing higher level math skills.
Services Provided
ALEKS Online Software
Computer/Laptop Access
Tutoring Support
Success Workshops
Counseling
Life Skills Coaching
Math Skills Confidence
Academic Success!!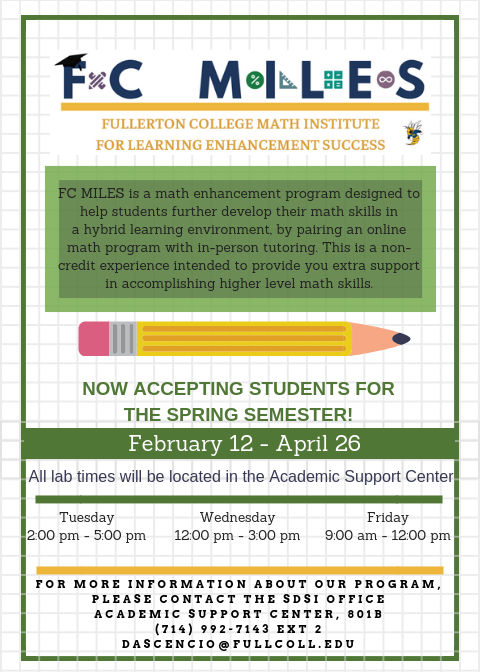 FC MILES Fall 2018 Hours
September 4 – November 16
Tuesdays
2:00 pm – 5:00 pm
Skills Center – Room 801
Wednesdays
12:00 pm – 3:00 pm
Skills Center – Room 801
For more information about this program, please contact the SDSI office:
Student Diversity Success Initiative Program
Fullerton College
321 E Chapman Ave., Room 801B
Fullerton, CA 92832
(714) 992-7143 EXT 2
sdsi@fullcoll.edu
Fridays
9:00 am – 12:00 pm
Skills Center – Room 801